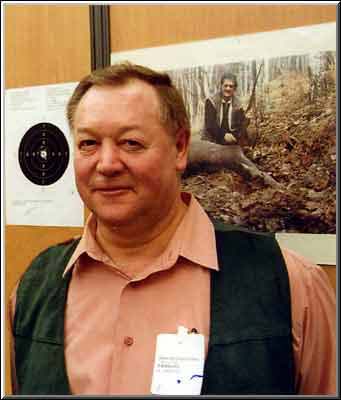 The inventiveness, creativity, tenacity and intelligence of Joseph Messner, offer to France, the first gauges magnum for the hunting of big game. The 6,5x63 Messner Magnum and, recently, the 6,5x63 R Messner Magnum take a place of choice in the universe of the powerful gauges.

France is incontestably a country of inventors.

Many are the men and the women who have very interesting ideas and must risk their own skin and their own money, for the implementation of their often brilliant lucky finds.

The assistances from which they profit, generate heaps of paper to fill, papers for which the awaited answers are long in coming, well beyond the reasonable time.

It is thus advisable to be patient, obstinate, and exceptionnally obstinate to manage to set up something.

These are exactly qualities of which Joseph Messner made proof.
Since the beginning of the Nineties, this impassioned of ballistics of shooting and hunting, had an idea which kept running through his head.

Indeed, if France, always produced armament with fine soldiers and huntings, is always very late on the level of hunting of big game which can be shot with lead, for the roe-deer in certain departments, as for the other animals, a banal shotgun charged with ammunition with " smooth balls ", can very well be employed for the shooting of the harts and wild boars.
<![if !supportEmptyParas]> <![endif]>
With regard to the shooting with metal ammunition, apart from Mr Fournier who had developed and produced the gauge 7x54 Farmhouse-Baker, nobody had really considered the gauges magnum that we were always satisfied to import.

There was thus a serious gap that Joseph Messner decided to fill.
<![if !supportEmptyParas]> <![endif]>
To design a magnum, simply by lengthening an existing case, is within the range of a great number of people a little erudite. On the other hand, to cogitate a magnum without lengthening of room and especially to make this magnum pleasant to draw, it is another business. By scientific calculations and a feeling out of the commun , Joseph Messner, on the basis of the casing of the 9,3x64, of which each one knows the brutality, endeavoured to develop the famous 6,5x63 Messner Magnum, which all the specialized press spoke about a few years after its discrete marketing.
Unfortunately, a man alone, with his only financial means, cannot make great noise to make available his product, after passing by the INPI, to deposit his patent, finances always do not follow and it is necessary to make with what one has to continue the adventure.

This adventure, we are a handle which shares it with Joseph Messner.
After three seasons of exclusive use of the 6,5x63 Messner Magnum, with more than one hundred pieces of game on board, for my own account, I allow myself to affirm that this gauge reconciles those which fear the retreat but however wish a gauge which has guts !Other users went to shoot the antelopes, large and small as well as the phacos with same success....

Today, the greatest arms manufacturers, such Johansen, Romey, Blaser, Heym, Walther, Krieghoff, Voere, Quinsa, Ecoutin and some others, support the action of Joseph Messner for a diffusion of the weapons and ammunition which finally leave the confidentiality status.

This year, Joseph Messner was present on the Big game show that took place on 29, 30 and 31 March, on a prestigious stand, Krieghoff France'one.

A particularly pleasing man, he will be able to answer all interrogations with his delicious Alsatian accent.

With Messner, the first French Magnum was born... he deserves at least a great blow of hat and especially the success of his company entirely financed on his own capital stocks.

If that is not tenacity, another qualifier will have to be found !.....

                                        Jean-Claude TOLPHIN